10 Best Cotton Summer Dresses for Women: An Ethnic Trend Guide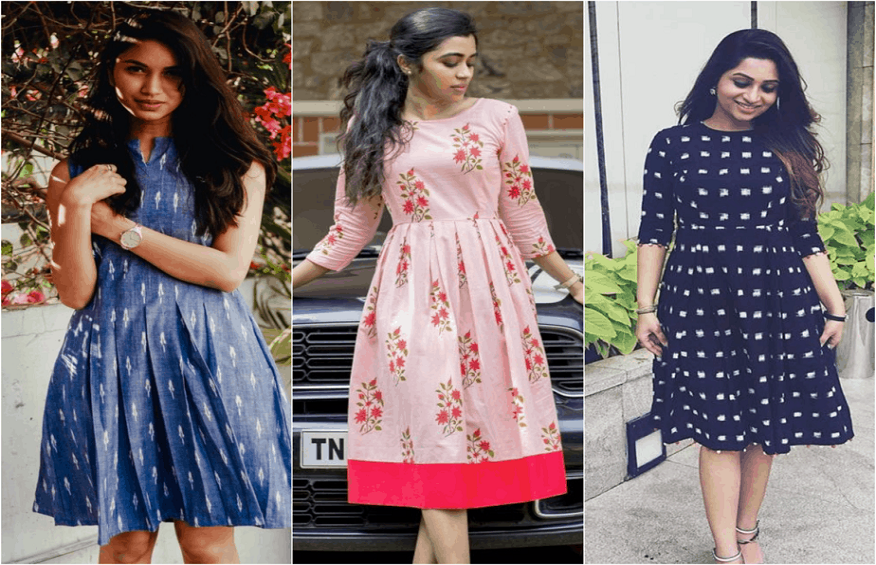 Picture this: You're strolling down the boardwalk on a sunny summer day, the salty breeze tousling your hair and the warm sand tickling your toes. Your outfit? A chic, lightweight cotton summer dress that hugs your curves in all the right places and makes you feel like the queen of the beach.
Whether you're planning a seaside getaway, dressing up for a special occasion, or just want to beat the heat in style, cotton summer dresses are the way to go.
Nothing beats the versatility and comfort of cotton summer dresses because cotton is a breathable and lightweight fabric that keeps you cool and fresh in hot weather.
In this blog, we'll explore some of the latest trends in ethnic cotton summer dresses, including cotton sarees, white sarees, and cotton kurtas, to help you create a stunning summer look.
1. Cotton Sarees
One of the most popular cotton summer outfits in India is a cotton saree. White cotton sarees, in particular, are a classic and timeless choice. They exude unbeatable elegance and simplicity, making them perfect for both formal and casual occasions.
The latest trend in cotton sarees is the use of bold prints and bright colours. You can experiment with prints such as stripes, florals, and geometric patterns to create a bold and unique look. You can also pair your saree with a sleeveless designer cotton blouse or an embroidered ethnic crop top blouse for a modern and trendy look.
2. White Sarees
White sarees are another popular choice for summer dressing. They are simple, elegant, and perfect for formal events such as weddings or dinner parties. One of the trending styles in white sarees is the use of intricate embroidery and lacework. This adds texture and depth to the outfit and makes it look more sophisticated. You can pair your white saree with a dramatic white designer blouse or an embroidered ethnic crop top to add a pop of colour to your outfit.
3. Cotton Kurtas for women
Cotton kurtas are another staple that every summer wardrobe should have. They are flattering, lightweight, comfy, and perfect for everyday wear.
One of the latest trends in cotton kurtas is the use of asymmetrical and high-low hemlines and flared sleeves. This adds a modern twist to the traditional kurta and makes it look more stylish and fashionable. You can pair your kurta with leggings, jeans, or palazzo pants to create a chic and fashionable look.
4. Maxi Dresses
Maxi dresses are another popular choice for summer dressing. They are flowy, breezy, and perfect for a beach vacation or a casual day out. One of the latest trends in maxi dresses this year is the use of bold and colourful prints. You can experiment with prints such as animal prints, polka dots, and floral patterns to create a statement look.
Indya has one of the best collections of long maxi kurta dresses online. From pastel floral prints to sassy slit styles, Indya'sdesigner maxi dresses will capture your heart!
5. Cotton Shirt Dresses
Shirt dresses for ladies are a versatile and stylish option for summer outfits. They are easy to style and can be dressed up or down, depending on the event or gathering. One of the latest trends in shirt dresses is the use of oversized and flowy silhouettes. This adds a touch of sophistication to the outfit and makes it look more elegant and stylish. You can pair your shirt dress with sneakers or sandals for a laid-back casual look or add heels for a more formal event.
Conclusion
Cotton ethnic summer dresses are the ultimate weapon in any fashion-savvy woman's arsenal. They're breathable, comfortable, and oh-so-stylish. And let's not forget their versatility: you can dress them up with heels and a clutch for a night out or keep it casual with sneakers or flip-flops for a daytime look.
But what's the best part about cotton summer dresses, you ask? 
Well, they give you an excuse to twirl around like a Disney princess in the warm summer breeze. So, go ahead and let your inner child breathe a little; after all, who says you're too old to have fun with fashion?