2023 Trending Designer Sarees for Women
Haven't we all draped our mum's sarees as kids and spent hours gazing in the mirror or twirling around the house, wooed by the dreamy elegance of the sarees?
In fact, most of us still love and admire sarees. But make silly excuses to avoid them. Because you know, once you give sarees your heart, there's no turning back!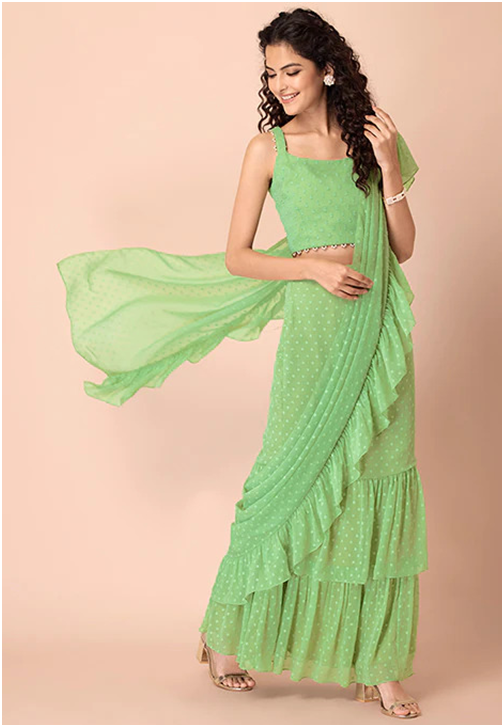 And we are here to tell you- it's time, you embrace what the heart wants and reconnect with the little girl in you. So buckle up, grab some chai or coffee, and let's dive into the world of designer sarees!
For centuries, Indian women have donned this six-yard wonder for everything from weddings to work. But while the saree may be a traditional garment, that doesn't mean it's stuck in the past. Thanks to designer sarees and their innovative styles, traditional sarees have undergone a stylish makeover. From intricate embroidery to modern prints and cuts, designer sarees offer an exciting blend of traditional and contemporary elements.
Whether you're looking to make a statement at a party or simply want to add a touch of elegance to your wardrobe, designer sarees for women will never disappoint you.
Thanks to the internet, designer sarees are now easily accessible to everyone. You can find a wide variety of designer sarees online, from traditional silk sarees to modern party-wear sarees. With so many options available, it can be tricky to pick the right one. But fret not; we've got you covered!
2023 Top 5 Designer Sarees Trends
Whether you're attending a wedding, a party, or a formal event, there's a designer saree for every occasion. Here are some of the most popular types of designer sarees to choose from:
1. Party Wear Sarees
These sarees are perfect for parties and other social events. They are usually made of luxurious fabrics such as silk, georgette, crepe, and chiffon with intricate embroidery or embellishments such as Zari work, mirror and thread, sequin, etc.
2. Designer Embroidered Sarees
Designer-embroidered sarees are an elegant and stylish way to add a touch of luxury to any wardrobe. They come in a variety of designs, from simple threadwork to intricate zari embroidery. The intricate patterns, beautiful colours, and exclusive designs of these sarees make them truly unique pieces of clothing that can be worn on any occasion. Designer-embroidered sarees offer a unique combination of beauty and grace and make any woman stand out.
3. Pre-Stitched Sarees
Stitched sarees are complete game-changers! Ready-to-wear sarees are becoming increasingly popular as they offer the convenience of wearing a saree without the hassle of draping it. These sarees come with pre-stitched pleats and pallu, making them easy to wear.
4. Designer Ruffled Sarees 
Ruffles are all the rage this season, and designer sarees are no exception. They feature multiple layers of soft, airy fabric on the pallu and border, creating an elegant yet edgy look. Easy-to-style designer ruffled sarees are perfect for any special event or formal gathering.
5. Floral Print Sarees
Floral prints are a classic trend that is always in style. In 2023, designers are incorporating- bold floral prints into their saree designs, creating a unique and fascinating look.
6. Metallic Sarees
Metallics are a hot trend for 2023. Sarees with metallic accents or all-over metallic embroidery are perfect for adding a touch of glamour to your wardrobe.
7. Fringes and Tassels
Fringes and tassels are a fun and playful trend that's making a comeback in 2023. Look for sarees with fringed borders or tassels on the pallu for a chic look.
How to Choose the Right Color and Fabric Combination For Your Designer Saree:
1. Buy designer saree online in India: Shopping online is convenient and allows you to choose from a wide variety of designs and patterns. You can also compare prices and grab the best deal without leaving your couch!
2. Designer Blouse: A designer blouse can add a touch of glamour to your saree and elevate your look. You can opt for blouses with unique designs, such as off-shoulder blouses, halter neck ethnic crop tops, or cold-shoulder styles to make a statement.
3. Best colour combination for sarees in 2023: The best colour combination for sarees in 2023 includes: hues of pink (rose, mauve, peach, hot pink, fuchsia pink, ruby, blush pink, and berry), red, navy blue, maroon, lilac, turquoise, gold, ash grey, yellow, emerald green, and orange.
4. Fabric selection tips for designer sarees: When choosing the fabric for your saree, consider the occasion, event timings, season, and the gathering. For example, pick lightweight and breathable saree fabrics for summer, like georgette, cotton, chiffon, organza, tulle, chanderi silk, etc.