How to choose the right shoes to wear with your favorite jeans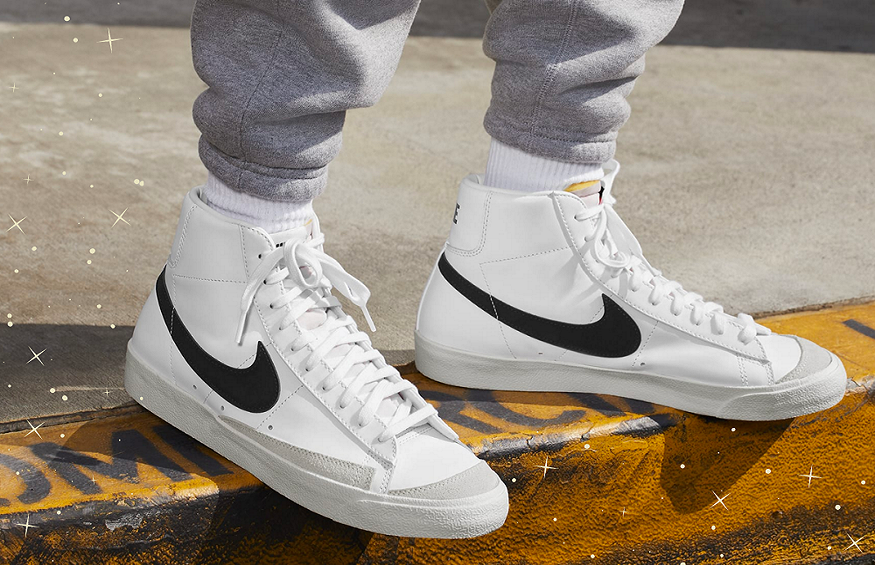 You don't have to be a fashionista to know how to wear jeans in style. All you need is the right pair of shoes to complete your look, whether you're looking for a smart-casual outfit for the office or a dressier ensemble for going out on the town. Whatever your style, from high waisted skinny jeans to acid wash bell bottoms, you'll always find the perfect pair of shoes to elevate your look. Here are the best tips to follow to select the style of shoes that will best match your favorite jeans.
What shoes go best with jeans?
Sneakers: Combine high shoes with skinny jeans for a casual look, or prefer low shoes with straight cut jeans. White sneakers with chunky soles are very trendy with jeans with a worn look, while sneakers with rubber soles and a cap toe go very well with black jeans.
Slip-on : A pair of slip-on skateboard shoes or flip- flops go great with any pair of jeans, for a decidedly laid-back style.
Brogues: A pair of suede or full-grain leather brogues with skinny ankle-grazing jeans and a dress shirt bring an elegant twist to classic denim. For a more formal look, wear it with a sporty jacket or coat.
Boots and ankle boots: For a casual but not too casual look, pair boot-cut jeans with a pair of ankle boots, or skinny jeans with high or high boots. Desert boots and chukkas also work great with jeans for a casual outfit.
Loafers: Skinny jeans are perfect with pointed loafers to create a stylish work outfit, with or without socks.
High Heels: For an on-trend look, pair skinny jeans with pumps or stilettos, or opt for chunky heels or sandals with classic, mom-fit or flared jeans.
Nike shoes that go best with jeans
Nike Air Force 1: The thick sole of the Nike Air Force 1 pairs perfectly with well-fitting straight jeans. Sneakers offer a huge variety of styles, from low-tops to high-tops, in many color and material palettes, ranging from fully customizable shoes to models adapted to different weather conditions. With its retro look, the Air Force 1 incorporates Nike Air cushioning and a foam midsole for optimal comfort in everyday life.
Nike Blazer: The original 1972 basketball shoe has stood the test of time, evolving to include leather, suede, or canvas uppers in low-top or mid-top styles. The clean lines of the Nike Blazer make it the perfect shoe with dark slim jeans, a polo shirt or a dress shirt, for a smart-casual day at the office. And these sneakers are built to last, with their sturdy rubber sole for perfect grip, better durability and a vintage look.
Nike Air Max: Nike Air Max models are decidedly sporty and offer a casual look with relaxed or skinny jeans. Visible Air units in the sole give them an athletic retro look, with a wide variety of colors, materials and designs. At the top, opt for a graphic t-shirt and a leather jacket or opt for a hoodie for a naturally trendy urban style.
Nike Air Huarache: Available in a sumptuous range of colors and prints, but also in classic white, the Nike Air Huarache pairs perfectly with skinny jeans and an understated neutral top. For an ultra-trendy look, these 90s-inspired sneakers also pair perfectly with current 90s denim fashion, such as faded black jeans or ripped baggy jeans. Originally thought of as a running shoe, the Air Huarache was designed for comfort with Nike Air cushioning, a comfortable foam midsole and a padded inner bootie that lets you adjust it to your liking and comfort. match many outfits.
Nike Dunk: Since its launch in 1985 as a basketball shoe, the Nike Dunk has become a symbol of individual style, available in bright or muted hues. High or low model, both will go perfectly with skinny jeans or straight cuffed jeans. The raised midsole adds height and style, while the leather upper and extensive stitching give the shoe a premium look.
Nike Internationalist: Classic, the Nike Internationalist goes with almost any style of jeans, from sleek skinny jeans to wide-leg jeans with a worn-in look. Pair light jeans with neutral tones or dark jeans with deeper colors. You can even customize the colors and materials to achieve a unique look. This iconic low top shoe from the 80s was originally designed for runners. It therefore offers optimal comfort and cushioning throughout the day.