Put away your clothes 7 original tips to save space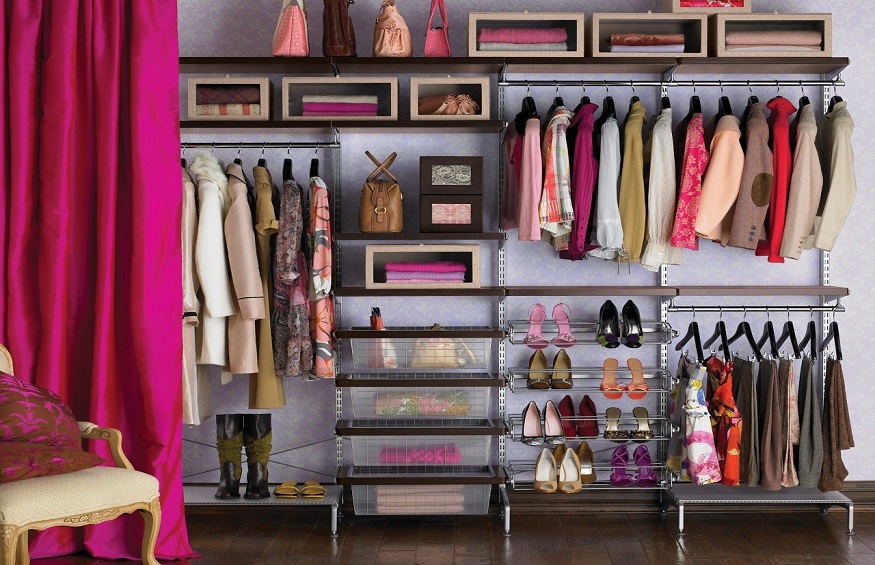 When it comes to storage or organization, we are all different.. And, I have at heart to present solutions that can improve your daily life as much as you are. Today, I want to help you save space in your closet because storing clothes is often a difficult task to tame for many reasons. Too many clothes, shared dressing room or small wardrobe, too lazy with laundry and ironing, etc. If this is your case, read on!
Your wardrobe or your closet is a mess without a name because you have long since abandoned the idea of ​​a dressing room worthy of decoration magazines. And you're right, real life is yours, not the magazines! You try to control the situation even if you put one stack on top of another and if you occasionally pick a t-shirt from the iron basket. But sometimes there is slackness: the clothes continue to pile up in the wardrobe and on the chair next door, the detergents no longer follow, the folded laundry is not put away, you do not really take into account what you have for clothes, etc. And if in addition, you share the space with your spouse, then optimizing the space in your dressing room becomes urgent.
At home, there are 4 of us: my husband, my two boys and myself. So we need 4 storage spaces for our clothes. So I know that finding space and storing your clothes  can quickly turn into a headache that you end up giving up in despair. I tested, and I continue to test different methods to make my life easier. So far, I have retained several cool and original tips that I will give you right away.
1 – Vertical storage
Remember, I was talking to you in the article on how to put away your wardrobe that I had tested the Konmari method to declutter my wardrobe. Beyond sorting and storage techniques, Marie Kondo's method is based on vertical storage. And, this method is perfect for t-shirt storage, jeans storage, and socks storage.. It also avoids piles or heaps of clothes that fail to collapse at any time. Vertically, we also visualize much better what we have.
2 – Boxes, the best friends of clothing shelves
In a chest of drawers, the drawers are perfect for applying the vertical storage method. But if you have a wardrobe, a large closet or a dressing room with shelves, boxes are essential for storing your clothes upright. You don't necessarily need to invest in very expensive boxes. All the brico and decoration brands offer them in all sizes. For my shelves, I opted for storage bins with small wheels. But there are also fabric ones for a soft glide. The free solution is simply shoe boxes!
Attention ! I'm not talking about boxes to store the clothes you don't put on. Besides… why do you keep them?Here, it is indeed boxes to store your everyday clothes. So don't stack them. You need to have a view of what's inside and be able to access it quickly. So no cover either!
3 – Save space for sheets and towels
If there's one thing that can take up a lot of space in our cupboards, it's bed sheets and bathroom linen if you don't have room in your bathroom.
Regarding sheets, I will not advise you to iron your linens even if it will save space in your wardrobes. I find it takes a lot of time and there is nothing worse for maximum annoyance. Instead, I recommend that you put them in the dryer and fold them as soon as they are dry so that the sheets are as smooth as possible. Personally, as soon as the sheets are dry, I put them back directly on the bed. In my cupboards, I have only one spare set for each bed.
Another storage trick is folding so that your fitted sheet and duvet cover or flat sheet fit inside a pillowcase. Thus all the pieces of the adornment are gathered. The ornaments can thus be stacked without any problem.
For towels, fold them in half lengthwise or in thirds depending on the size of the towel, then roll them up! There is also no point in having too many of them. Provide 2 large towels and 2 small towels per person, this is more than enough.
4 – DIY for storing your accessories
I already mentioned it above when talking about shoe boxes to be transformed into storage boxes. But there are dozens of tips for optimizing storage with diverted or salvaged objects. Here is a list of my favorite tips:
Shower rings and a hanger to hang your scarves and scarves: insert them on the rings and you're done. On a hanger in the wardrobe, they take up less space than rolled or folded.
Wine carton is ultra popular for storing flat shoes, sneakers, ballerinas. As this box is compartmentalized, you can store 6 to 12 pairs depending on the box.
Plastic bottles to keep the boots upright. Pairs of boots are difficult to store because they take up space and they sag. So place empty water bottles, cut up pool noodles or old rolled up magazines inside to keep them upright. You can also hang them from a small curtain rod with children's trouser clip hangers.
The egg box jewelry box: collect a plate for the eggs, cut it according to the size of your drawer and in each small cavity place your necklaces, rings, earrings, etc. We see a lot on Pinterest the frame with spikes to hang jewelry on the wall. Personally, I don't like the fact that they collect dust. If in addition, you have costume jewelry, in the open air, they oxidize quickly.
5 – The wardrobe to store your clothes
Unlike the Konmari method, which recommends folding instead of hanging, the fact remains that some clothes cannot be folded. I'm thinking of jackets, coats, flowing dresses, shirts and blouses, vests and some pants.
Start by sorting your clothes from longest to shortest. Under the shortest clothes, you save space to store boxes of shoes, for example.
I'm going to go against what you may read, which is to only use identical hangers of the same color. Here, I offer you identical and solid hangers yes, but in different colors. One color per type of hanging garment or per season. Since I just suggested that you classify your clothes by length, you may have long dresses in the middle of long coats. As they are also less bulky and therefore less conspicuous, hangers of different colors allow you to spot your dress between 2 coats.
Another trick that I find very cool is the bobbin tab to hang two hangers together. Ideal for taking up minimal space on your closet rod, this method is perfect for hanging blouses, shirts and dresses.
6 – Seasonal sorting for an airy wardrobe
Even though I quite like the idea of ​​not really having seasonal clothes anymore, I don't see myself wearing a big, warm sweater in the summer. Also, I continue to buy clothes even though I am careful about what I buy to keep my wardrobe as minimalist as possible.
What I'm trying to tell you is that sorting is unavoidable several times a year. I would say 2 or 4 times a year. And, this is even more valid for children who grow and wear out clothes much faster than us.
Throw away or donate what is no longer in good condition or the right size;
Do not keep clothes that are replaced by new ones. A new t-shirt against an old one. If you can't find a t-shirt to throw away or give away, you shouldn't have bought the new one;
Put away the clothes you are saving for the next season.
For the bulkiest pieces like coats and down jackets, letting them gather dust for several months and take up space in the closet may not be the best option. Think of the covers that you can vacuum with your vacuum cleaner and place the covers on the highest shelf in your dressing room. Before buying a new coat when winter arrives, take out your cover and see if a new coat is really a good idea. If so, give the one you will no longer put.
7 – Ironing to optimize the storage of your clothes
I know, I know, many of you postpone or completely exclude ironing from your household chores. And I'm part of it! But I can because I definitely opted for the minimalist wardrobe.
If your wardrobe contains a lot of clothes, tell yourself that ironing is one of the best solutions for your clothes to take up less space and be properly folded. Not only will your ironed clothes have a real look, but pressing the fabric immediately gives it less volume. Clothes are also much easier to fold when ironed. Up to you !
Store your clothes to save space
Finally, there are a host of ideas and tips for saving space in your closet and storing your clothes simply. Often cabinets are messed up because people don't bother ironing or folding properly. So empty your closets, sort your clothes, iron them, fold them, and put them away using some of the tricks above! You will tell me if your wardrobe is more airy and pleasant. Remember to share your storage tips for your closet.