Tired of tattoos? How to camouflage your tattoos before D-Day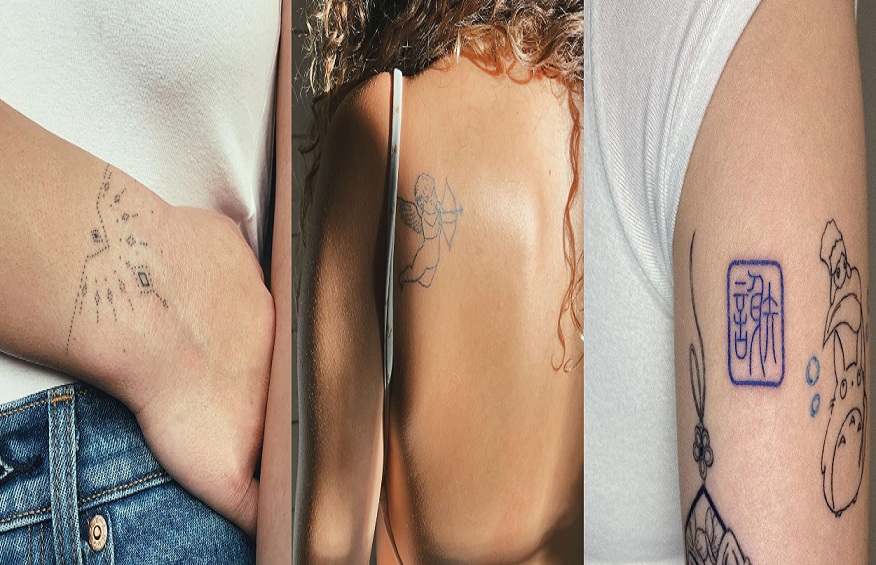 You are still hesitating between different models of wedding dresses . You have browsed many articles looking for a wedding hairstyle that you like and have retained several examples of curly updos . A small detail, however, slows down your research and limits your choices: your tattoo!
You have one or more more or less visible tattoos. By making your first attempts at strapless wedding dresses or hairstyles, you realized that your D-Day look revealed your tattoos.
If for one reason or another you don't want to show off your tattoos on your wedding day, here are some techniques that will allow you to make these designs disappear for your big event.
Outfit and accessories, good allies
Depending on the location of your tattoo, your lace wedding dress may come to your rescue. By choosing a model that covers it, you won't have to reveal it on your wedding day.
In order not to deprive yourself of an outfit that does not cover the area of ​​your tattoo, consider accessories. A veil, an illusion neckline, a flower bracelet, mittens, an anklet , there are plenty of ways to cover up your tattoo in no time.
Self-tanning spray and foundation spray
If your tattoo is on the contrary small in size and light in color, a simple self-tanning spray or a foundation in the form of a spray could prove to be sufficient.
This type of product is often used to hide small imperfections. It can therefore be used to hide your small drawing for a day.
Your everyday makeup
Do not go looking for a remedy at the end of the world, your bathroom may already contain the solution to your problem! Your usual foundation can indeed allow you to blur the appearance of your tattoo. Concealer sticks are also very effective in masking your drawings.
Start by applying the stick in a thick layer and fix the material with a translucent powder or other fixative such as hairspray. This will avoid staining your garment. If necessary, apply a second touch of concealer and complete your camouflage session by applying a compact powder.
Rather than using a lot of your wedding makeup to erase your tattoo, get some stage makeup . This type of product is designed to be particularly covering and resistant due to its use.
This solution is preferred if your tattoo is large. You can then cover it with a product of the color of your skin or with white makeup that you will hide under a layer of foundation.
Specialized products
Do you want to be absolutely sure that no one will be able to guess the presence of your tattoo? Look to specialty products . Cosmetic brands and skin products in general have developed ranges specially designed to erase tattoos temporarily.
Here you will receive a complete kit containing a long-lasting product and its cleanser. No more need to apply ten coats of foundation, these products guarantee you a perfect and long-lasting result. Your tattoos won't steal the show from your mermaid wedding dress !
What about color tattoos?
Whether your tattoo was done in black ink or in color, the above tips may apply. Very colorful designs, however, may be more difficult to mask. In this case, you must seek to neutralize the color of your tattoo.
Opt for yellow-beige correctors  if the drawing is blue  in the same way as for the black strokes. Trust the green concealer to conceal your tattoo if your drawing is rather red.
Is your tattoo well hidden? Perfect ! You will now be able to focus on your wedding makeup . In order to obtain a natural bridal makeup , on the other hand, forget all the advice we have just given and turn to light makeup techniques!